The global market for waste paper management has been growing proportionally with the increasing environmental concerns among people and enforcement of stringent environmental laws & regulations.
The paper industry has been dominated by North America for more than a century now. North America is the largest producer as well as consumer of paper & paper products with a yearly per capita consumption of 487 pounds of paper. This region also enjoys significant availability of fiber resources, which enables it to hold the highest position in the global export of pulp & waste paper. The U.S. ranks first in pulp & paper manufacture and exports, globally, followed by Canada. The global waste paper management market is projected to be valued at around USD 43.35 Billion by 2020, and to grow at a CAGR of 2.55% from 2015 to 2020. The commercial sector as a source of waste paper is projected to grow at the highest CAGR from 2015 to 2020.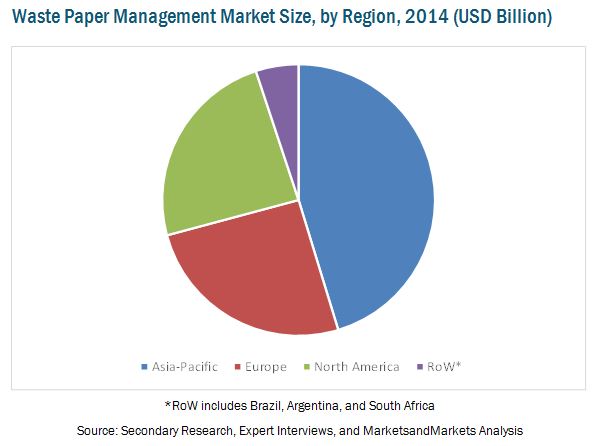 This report provides a complete analysis of key companies and competitive analysis of developments recorded in the industry in the last five years. In this report, market drivers, restraints, opportunities, and challenges have been discussed in detail. Companies such as Veolia Environnement S.A. (France), International Paper Company (U.S.), Waste Management, Inc. (U.S.), UPM-Kymmene OYJ (Finland), and WestRock Company (U.S.), Republic Services Inc. (U.S.), Mondi Group (South Africa), Georgia-Pacific LLC (U.S.), Sappi Ltd. (South Africa), and DS Smith Plc. (U.K.) have been profiled to provide an insight into the competitive scenario of the waste paper management market.
Mergers & acquisitions have been the key strategies adopted by leading companies to accommodate the rapidly changing technologies in application areas and to increase their market share. Companies have also adopted strategic investments & expansions and new product developments to bridge the existing gaps in their product offerings, end-market requirements, and geographical constraints. These strategies have been adopted by leading companies to ensure retention of the existing market share within the highly fragmented waste paper management market.
Source: Waste Paper Management Global Forecast to 2020